If you're in need of fence stains in Truckee, our stores have got you covered. Reno Paint Mart, along with its Truckee and Carson City locations have a team with decades of experience working with plenty of paints and stains. But first, let's brush up on how to stain a fence.
Like any natural product, a wood fence is susceptible to wear and tear. The best fence stain products will prolong the life of your fence, and it helps when you take the extra steps like technique and preparation. For best results, start this project when the weather is warm and clear. With summer weather on the horizon, it's now the perfect time to buy deck stains in Carson City from our store.
Get Your Tools
The best tools to do the job is a medium-sized brush or a pad with a fluffy nap, similar to what is used for a deck. If you plan to use a roller, make sure it's one that is comfortable to continuously hold throughout the duration of the project. 
Prepare the Fence
First, prepare the fence by giving it a quick spray from a pressure washer if it's new, or a heavy-duty clean if it's older or dirty. Before painting, the fence must be fully dried. Sometimes, a strong power washing isn't enough, so in cases like this, a chemical stripping agent might be needed. If the fence is dark and discolored, apply a wood brightener to restore its original condition to get the best finish possible. After all, the beauty of the wood grain is the reason you installed it.
Quick tip: Test a small area using the same amount of pressure and coats of stain you plan to use on the fence and let it soak in to ensure it is the wood stain color you want. Then it's much easier to adjust accordingly during the process.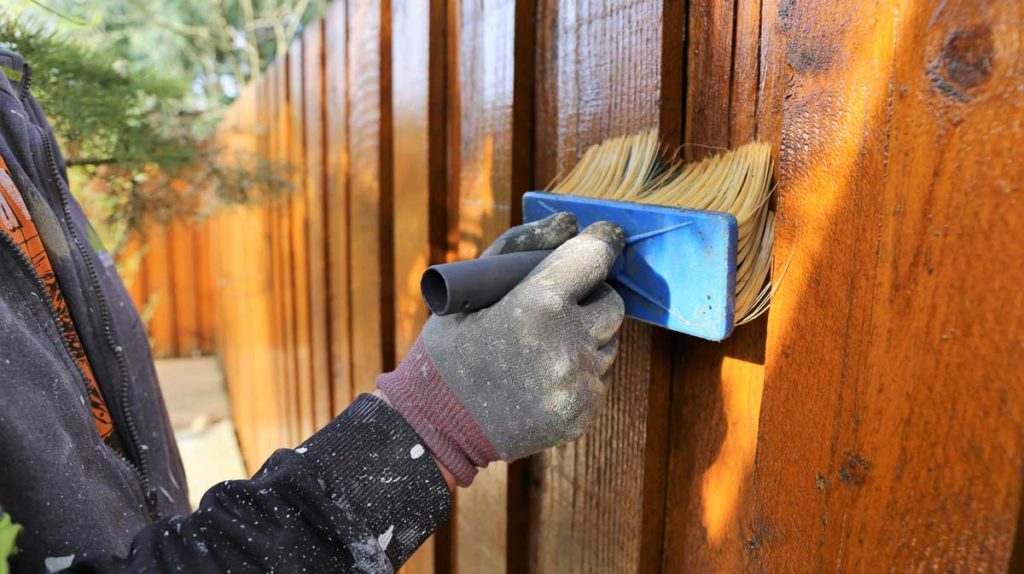 Carefully Apply Fence Stain 
Stain the fence from top to bottom with small, quick brush strokes rather than huge ones for even coverage. It's similar to deck staining in the fact that you should absolutely never start or stop in the middle. For best results, do two coats both on the same day. If there's an area with blotches or where the stain puddles, quickly use the brush, pad, or roller to smooth it all out. 
However, if you're looking for the fastest way to stain a fence, a sprayer speeds the process up substantially. With an airless sprayer, you can quickly apply the stain on the surface and use a brush or roller to push the material. Just keep in mind that sprayers can get out of hand when using them on open lattice or picket-type of fences due to overspray. 
As for cleanup, mineral spirits are needed to get rid of oil-based stains. Rub any over-applied stain with a cloth, as it can sit pooled up on the surface.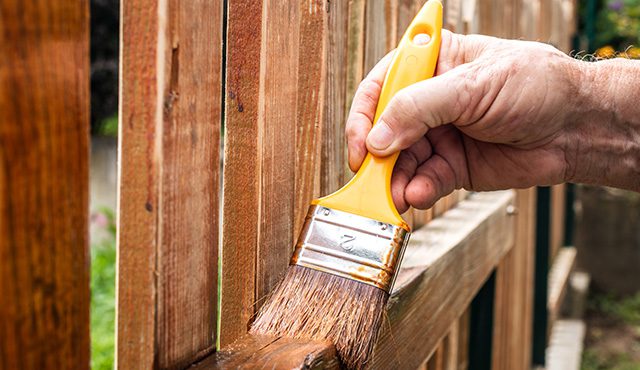 Reno Paint Mart has a few go-to stain recommendations, such as the Bravo Fence Stain. We typically suggest looking for oil based stains because they soak into wood easily and adhere better. With a slower drying time, the stain gives the piece a more even finish. Compared to a water based stain, they will resist peeling and instead fade away from the sun's harsh rays. If it's applied incorrectly, you'll see shiny areas throughout the fence. 
Now you can enjoy your beautifully stained fence, so kick back and admire your hard work! Regular maintenance on the fence is a great practice to make sure there are no unsturdy spots on the fence. At least once a year, clean the fence and make any necessary repairs, too. 
Our Truckee location is well-stocked with paints, stains, and every type of supplies you may need for interior and exterior projects. We strive to forge a customer relationship that can't be found in corporate paint chains, as well.
Contact Us For Your Carson City Fence Stain Needs