Paint finishes are meant to protect and decorate your project; however paint finishes tend to lead on the decorative side, where wood finishes tend to be more on the protective side. We offer a variety of paint finish such as flat (enamel and matte), eggshell, gloss and satin for your Reno interior design and exterior design projects.
Choosing the right Reno paint finishes can be a stressful experience if you're not sure what you're doing. The various type of paint finishes can alter the look and feel of any Reno interior design project. At Reno, Truckee, Carson Paint Mart, our goal is to make the experience informative and fun, so we've put together a simple explanation for the different types of paint finishes and when to use them.
Know your Sheen
Every paint product and brand can have a slight variation on sheen, leading to different textures in with your product. For example, shiny and reflective paint products can highlight bad wood or specific defects. When you visit us make sure to ask about how the specific sheen may react with your Reno interior design project.
Flat Finish
DINING ROOM | LIVING ROOM | BEDROOMS
Flat enamel finishes absorb light very well, leading to a more controlled look. This type of paint finish is best used in high traffic areas. The chalky finish helps hide surface imperfections for older walls, and neutralizes a busy scene of people and movement.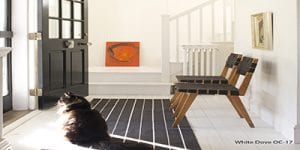 Satin
HALLWAYS | FAMILY ROOMS | FOYERS
Satin finishes are often described as "velvety" due to the sheen from various light sources. Its exceptional color comes with some high maintenance such as revealing brush strokes after it dries. Touch-up can also be a little tricky. However, this paint finish is still great for it high durability.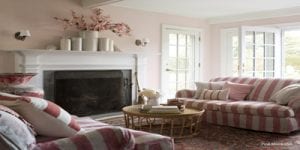 Eggshell
DINING ROOMS | LIVING ROOMS
An eggshell finish sits between satin and flat finishes in terms of durability and sheen. Like a chicken egg, it lays on smooth with little to no reflective properties. Eggshell finishes also bring the benefit of covering imperfections well, but should only be applied to an area with medium to low-traffic.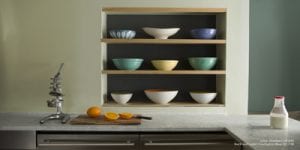 Semi-gloss
BATHROOMS | RAILS | KITCHENS
Semi-gloss paint finishes will produce a visible shine ideal for woodwork and cabinetry. It is durable enough to even wash. High-moisture areas are an ideal choice for this paint finish.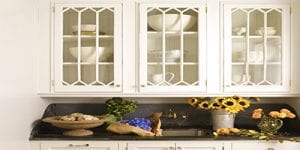 High Gloss
CABINETS | DOORS | TRIM
Expect to see the highest level of durability and shine. Glossy finishes apply well on doors, trim, and miscellaneous architecture. Avoid using too much high gloss for interior walls due to its ample shine.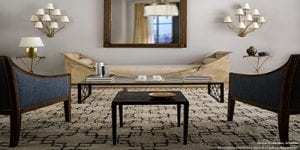 Metallic Finish
BEDROOM | LIVING ROOM
If you want your walls to reflect light to create a spacious atmosphere, consider applying metallic paint finishes. Lighter shades such as silver and gold are recommended for best results. However, be aware of any dents on the walls because they will be amplified with a metallic finish.