Exterior House Paint Reno
EXTERIOR HOUSE PAINT 101
Trying to choose from the best house paint Reno has to offer can be difficult. It may seem like a daunting task for any beginner, but with proper planning, tools, and help from the Reno Paint Mart team, your project will come together without a hitch!
Before diving into your exterior house painting project, it's important to determine the size of your task. Are you going the full nine yards? Or just adding a pop of color to the shutters on your home? In all cases, there are important elements to consider when making your choice.
Choosing a Paint Type
The first element to determine is what type of Reno exterior house paint is right for your project. For exterior paint, there are two types of paint that are used: oil-based or latex-based paint. The type you choose is largely determined by the existing paint on the surface. If latex paint is put over oil-based paint (without proper priming), it likely will peel right off. Thus it's important to know how to indicate the type of exterior paint already on your home as well as determine what type of paint works best for your needs.

Oil Paint
Known for durability, oil-based paint will adhere, and seep into the siding of your house better than latex paint. When applied, this type of paint flows easily, and when dried, appears smooth and level. Unlike latex paint, oil-based paint takes up to 24 hours to dry, and blocks moisture from penetrating into the siding of your home. To test if your house has oil-based paint currently try peeling away a paint chip. If the paint chip cracks almost instantly, then it's likely to be oil-based.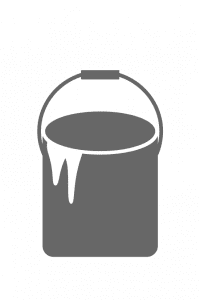 Latex Paint
This type of exterior house paint is water-based, and cleans up easily with soap and water. Latex dries quickly in 1 to 6 hours and is easy to apply, though more prone to showing brush strokes. Latex exterior house paint also produces less of an odor, and expands and contracts with your home's siding. If latex paint is already on your home, examine a paint chip. It will likely flex before cracking.
If you're still unsure as to what paint your home currently has, don't hesitate to bring us a sample and we can help identify. No matter your choice, it's important that you consider high quality paint for exterior projects in order to ensure long lasting results.
PRIMERS MAKE A DIFFERENCE
Painting a primer before your color of choice is important. Especially if you're looking to change the type of exterior house paint used on your home, painting a difficult surface, or you're looking to ensure extended life of your paint. If you're painting something other than just the siding of your home, there are primers that specifically help prep surfaces like wood, metal and concrete.
Similar to your paint choice, your primer has to follow certain rules to ensure your paint sticks. While oil-based primers can work with oil and latex paint, water-based primers should only be used with latex paint.
Before laying down your primer, it's important to properly clean the exterior of your home as well. Be sure to scrape off any chipping and peeling parts, fill in any holes, and sand any areas that are rough. Pressure washing is a great option to quickly clean the entirety of your home, but should be done a few days in advance of painting.
CHOOSING YOUR COLOR PALETTE
When choosing the colors for your home, it's helpful to keep in mind the color palette of the area around you. When making your decision, take these three things into consideration:
THE HOMES AROUND YOU:  The goal is to compliment the colors of neighboring homes without replicating the color exactly. You want to make your home stand out from those surrounding.
THE ENVIRONMENT AROUND YOU: Your color palette should compliment whatever landscaping you have around your home, as well as any other non-painted features like your chimney.
WHAT YOU LIKE: Ultimately the color of your home should be something that is appealing to you. While not everyone's favorite color works well when painted over an entire home, it's important to choose colors that you can live with.
Know your Sheen
Every paint product and brand can have a slight variation on sheen, leading to different textures in with your product. For example, shiny and reflective paint products can highlight bad wood or specific defects. When you visit us make sure to ask about how the specific sheen may react with your project.