Wallpaper has become a top interior design trend in recent years, and it's pretty easy to see why. Not only does wallpaper come in a variety of styles, patterns, textures, and colors, making it easy to add some flair to your walls, but it's also a simple material to install. However, wallpaper isn't all created the same, and there are some distinct characteristics to be aware of when choosing between the different types of wallpaper. 
The two most common types are traditional wallpaper and peel and stick wallpaper. Learn more about these products with Reno Paint Mart by reading below!
Types of Wallpaper
By appearance, traditional and peel and stick wallpaper seem one and the same, but this isn't the case. The greatest differences between these types of wallpaper are how they are applied and their intended purpose. Considering factors such as whether or not you rent or own your home, application skill level, and how long you plan to keep your wallpaper up will affect your decision when choosing a wallpaper type. 
Traditional Wallpaper 
Traditional wallpaper refers to wallpaper that is not self-adhesive and is made from non-woven materials. This type of wallpaper was once made out of vinyl until interior designers concluded that it was extremely difficult to clean and remove. Today, non-woven traditional wallpaper is made from a combination of natural and synthetic fibers that make the paper more breathable and less prone to mold. However, vinyl wallpaper is still used today in areas that need more protection from oils and moisture to prevent damage and peeling such as kitchens and bathrooms. Additionally, vinyl wallcoverings are easier to clean.
To apply the paper to the wall, an adhesive needs to be pasted directly to the wall or wallpaper backing in order to create a solid bond. Once the paste is applied, the wallpaper can be placed on the wall and a flat squeegee is used to remove any air pockets or bubbles that may have formed during application. Because the adhesive that is used to apply traditional wallpaper takes more time to fully dry, you will have some opportunity to move and manipulate the paper even after it's been applied.
It's also important to note that traditional wallpaper was not intended to be removed. The adhesive can be difficult to remove and often requires the help of additional tools. However, traditional wallpaper these days can be removed fairly easily, but cannot be reapplied.    
Peel and Stick Wallpaper
Peel and stick wallpaper, also called removable or self-adhesive wallpaper, is a wallpaper that comes with an adhesive backing and is applied similarly to a window decal. This type of wallpaper is fun as a temporary solution and the removal process makes it a top choice for many renters. 
To apply peel and stick wallpaper, all you have to do is remove the paper backing to reveal the adhesive, apply the paper to the wall, and use a squeegee to get rid of any air bubbles. It works best on completely smooth surfaces like refrigerators and stair risers, so don't be scared to look at areas that aren't walls. Removal is extremely simple as all you have to do is lift up a corner and start pulling. 
One of the major advantages of peel and stick wallpaper is that it is completely removable and leaves behind little to no residue that can be cleaned off with a damp rag. Because of this, removable wallpaper is renter-friendly and gives more design options to those who aren't allowed to paint their walls.
Traditional Wallpaper vs. Peel and Stick Wallpaper
The greatest difference between traditional and peel and stick wallpaper is the application process. Traditional wallpaper is more forgiving if you need to readjust the placement of your paper or remove a few air bubbles. However, applying the adhesive can be a timely process and usually makes quite the mess. On the other hand, peel and stick wallpaper has a simple and quicker application process.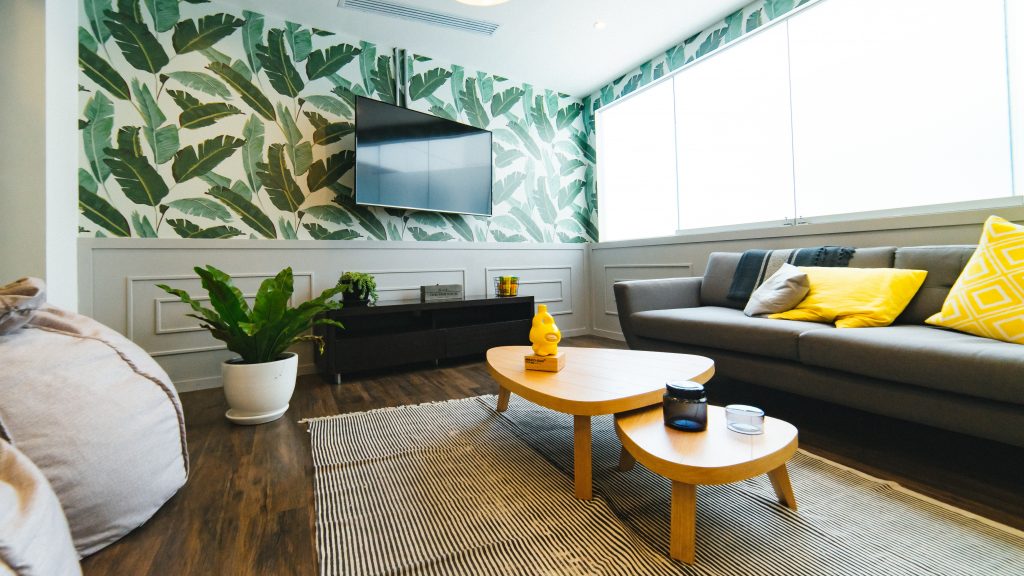 Reno Interior Design Assistance
With so many different types of wallpaper to choose from, (we haven't even mentioned textiles and grasscloths!) how do you decide on just one? To determine the best type of wallpaper for your next Reno interior design project, connect with the experts at Reno Paint Mart. Our interior designers will help assess your specific needs and wants to find the solution that's right for you.