Your home is one of, if not the biggest purchase you'll make in your lifetime. Protect it with paint that will last! Whether your home needs a fresh coat to address cracking and fading, or you're looking for a color change, a long lasting exterior paint is a great way to protect the value (and siding) of your home.
In the High Desert of Northern Nevada, an exterior paint home project faces unique challenges. We see drastic temperature swings through the seasons and our summers are becoming increasingly sweltering. Luckily, we have the knowledge and products to tackle any job! Reno Paint Mart has been in the area since '52, and can offer expert advice on paint preparation, paint selection and painting in hot weather.
Preparation
It's tedious, but proper preparation goes a long way towards a sharp-looking home paint job. So let's roll up our sleeves and get to work! Especially in our windy desert climate, your home's exterior will likely be coated in some level of dust. It's best to pressure wash all surfaces, then scrape any loose paint or old caulk for a clean, blank slate to work from. Sanding is recommended to assist in forming a strong bond between the old surface and new paint. However, if your home was built before 1978, it may contain lead or asbestos in the original paint or siding. In this case, we recommend following abatement procedures to address potentially harmful substances before diving into sanding. Once your home is washed, scraped and sanded, it's time to apply an appropriate primer. You'll want to use either an exterior water based or exterior oil based primer (we have that too!). If you're changing your home's color significantly, priming is even more important. Our design team can assist with any preparation-related questions you may have.

Paint Selection
The color of your home reflects more than just your personality! It also reflects the harsh Nevada sun. Just like wearing a black t-shirt on a hot day, your home will absorb more heat if painted a dark color. Check out the Light Reflecting Value (LRV) on the can. Higher values on the scale of 100 indicate shades that reflect more light. We can help you select the optimum color and reflectivity of paint for your project.
Next, chose the type of paint. Reno Paint Mart carries two types of exterior paint that work great in our hot weather:Elastomeric and Acrylic. Each type has benefits and drawbacks, but both are completely suitable for home painting applications. Here are the main differences:
Elastomeric Pros
Elastomeric paints were developed for use on stucco exteriors, but also work well on brick, concrete, wood, and metal. Most notably, elastomeric paint goes on thick. In doing so, it creates a highly-durable, waterproof coating that can withstand extremes over time. This makes it a great choice for our hot summers and chilly winters. Additionally, its thickness and elasticity enable it to bridge imperfections and stretch with your house as it contracts, expands and settles.
Elastomeric Cons
Elastomeric paint is typically more expensive than acrylics. Essentially, you are paying a premium for the durability over time. However, if you weigh the cost of applying a single elastomeric coat every ten years against applying multiple coats of a traditional exterior paint every two years, it can be cost-effective for your project. It's not recommended you apply elastomerics if you are a novice. Unsightly lumps and imperfections can appear if the job is not done properly.
Acrylic Pros
Acrylic exterior paint is best suited for siding made from wood, stucco, plaster, fiber cement, or aluminum. Also semi-elastic, it provides a durable finish. Application on wooden exteriors is where acrylics shine. By providing a breathable surface, it enables the wood to rid itself of moisture that could otherwise get trapped inside. Acrylic paints can also be easily painted over, should you need to re-apply or switch colors in the future. You'll save money in the short term, as acrylics are more easily applied and don't carry the premium cost that elastomeric paints do.
Acrylic Cons
Due to its thinner, breathable qualities, exterior acrylic paints will fade and degrade slightly faster than their elastomeric counterparts. Acrylics will not fill or bridge imperfections on your home's surface as well as elastomeric paint.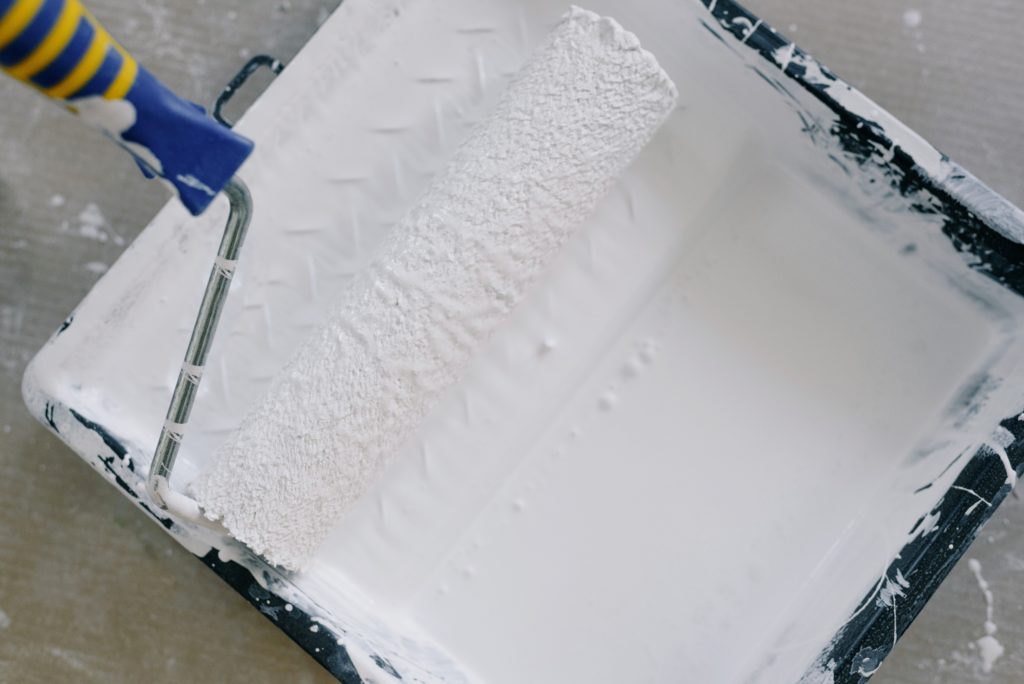 Hot Weather Painting Tips
No matter which of our exterior paint finishes you choose, arm yourself with the proper knowledge before laying down brush strokes in hot weather. Summer paint projects pose some challenges, but with a little forethought, you'll be able to stand back and admire your newly-painted home.
When painting your home's exterior this summer, avoid the following conditions if possible. If more than three of these boxes are checked simultaneously, it's best to pick another day for your project:
The outside temperature is 95° of more
The wall you are painting is in direct sunlight
The surface being painted is warm to the touch
The surface is porous
The weather forecast shows windy conditions
You can't control the weather, but there are workarounds to painting your exterior during the summer. Pros will do what's called "chasing-the-shade". This is done by starting with the wall cloaked in the morning shade, then working in a clockwise direction around the house as the sun moves. That way, you avoid being in direct sunlight and the paint can dry properly. Finally, keep your rollers and brushes saturated with paint, tackle one small area at a time, and paint at a consistent pace to obtain a uniform finish you'll love looking at from the curb!
Reno Paint Mart: Your Exterior Paint Store
Summer is a great time to paint your home's exterior. Though there are some factors you'll need to consider, such as preparation, paint type and how to perform the job in the heat, your hard work will pay off with adequate planning and the right products. If you have questions before starting your project, reach out to Reno Paint Mart's expert design staff. We'll put you on the right track towards an exterior paint finish you'll enjoy for years to come.